Veneers – Atlanta, GA
Creating a Beautiful Grin in One Fell Swoop
Of all the life-changing cosmetic dental treatments we offer, veneers remain one of the most popular thanks to their versatility. Have you been considering getting veneers in Atlanta, GA to improve multiple aspects of your smile? If so, reach out to our dental office to set up a cosmetic dentistry consultation with Dr. Vason or Dr. Grisham.
Why Choose Vason Family Dentistry for Veneers?
High-Quality, Durable dental Materials
Pankey Institute Trained Dentists
Strong Attention to Detail
Your First Veneer Appointment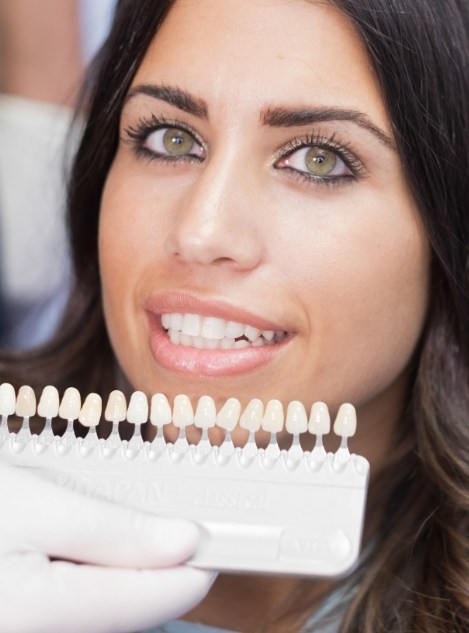 The initial veneer appointment usually takes between one to two hours. We'll ask a few questions to get a feel for what your dream smile looks like, and we'll examine your mouth to see if any oral health issues need to be addressed before cosmetic improvements can be made. Once we've confirmed that you're a candidate for veneers, we can discuss the changes you want in more detail.
We'll review the various factors that need to be taken into account when designing veneers, including the current shade of your teeth, your facial features and measurements, your skin tone, and your overall facial symmetry. Don't be afraid to ask any questions you have about veneers or the placement process. You can also ask to see our portfolio if you'd like to take a look at some of the smiles we've transformed in the past.
Veneer Tooth Preparation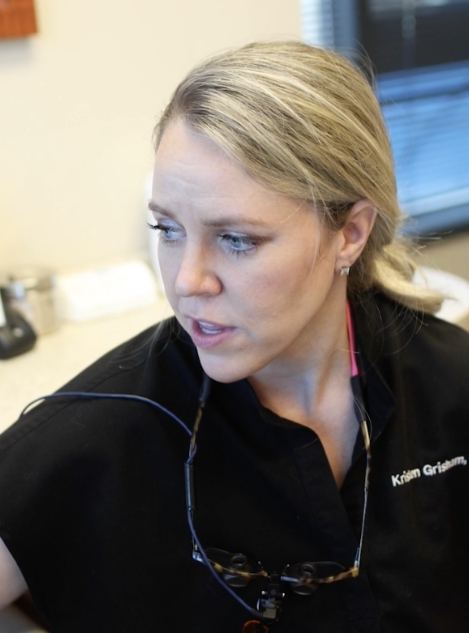 If you decide to commit to getting dental veneers in Atlanta, we may perform the initial preparation at your first appointment. We'll need to remove 0.5 millimeter of enamel from the teeth that will eventually receive veneers. That way, the final restorations will lie flat and blend in with the surrounding teeth without looking overly bulky.
Once the teeth are ready, we'll create an impression of your mouth or take a 3D scan. The impression or scan will be sent to a trusted dental lab along with photos of your existing teeth and customized shade preferences. Temporary veneers will be placed on your teeth to protect them until the permanent ones are complete.
Veneers, Behind the Scenes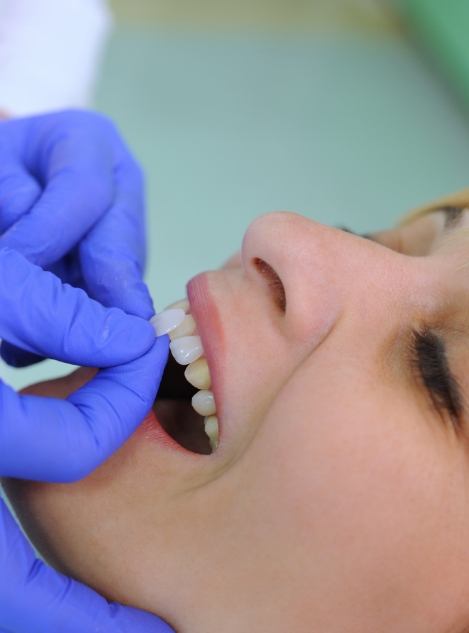 At the dental lab, a trained ceramist will review the impression or scan we've given them and use it as a reference to handcraft your veneers. They'll use long-lasting materials that mimic the appearance of real teeth, and they'll customize the final product so that it will ultimately look natural in your mouth. The completed veneers will be sent back to our office so that they can be placed.
Veneer Placement & Your New Smile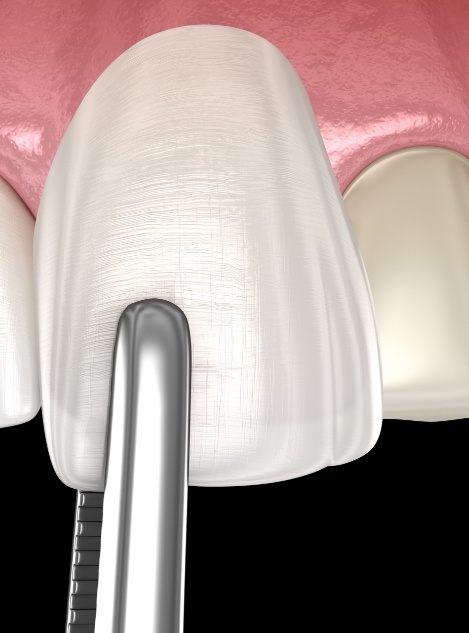 We might numb your mouth so that you don't experience any discomfort when receiving your veneers. Then, after we've taken your temporary veneers off your teeth, we'll double-check the permanent ones to make sure they fit properly and have the correct shape and color.
If you're happy with the veneers, we'll attach them to the front surfaces of your teeth with a special bonding material. A mild acidic solution will be applied beforehand to ensure that the teeth are clean. The bonding material will be quickly hardened with a curing light. When placing your veneers, we'll be sure to leave the proper room for flossing.
The entire process can be completed in just two or three visits, and the result will be a completely new smile! Get in touch with us today if you're thinking of using veneers to give yourself a smile makeover.