Dental Implants – Buckhead, Atlanta
The Next Best Thing to Natural Teeth
When it comes to modern options for tooth replacement, dental implants are the gold standard. Because the implant posts act as artificial tooth roots, they effectively restore the entire structure of your missing teeth. As a result, they offer many benefits that traditional bridges and dentures can't match. If you think dental implants in Buckhead, Atlanta might be the right choice for your smile, give Vason Family Dentistry a call today.
Why Choose Vason Family Dentistry for Dental Implants?
In-House Dental Implant Placement
Two Experienced, Highly Educated Dentists
Natural-Looking, Long-Lasting Dental Materials
What Are Dental Implants?
An actual dental implant is a small titanium post that is made to be surgically inserted into the jawbone. Titanium is highly biocompatible and can fuse with your bone tissue through a natural process called osseointegration; this allows your dental implant to act as a strong foundation for a dental crown, a dental bridge, or a denture. The final restoration will be attached to the implant post with the help of a small metal connector piece called an abutment.
The 4-Step Dental Implant Process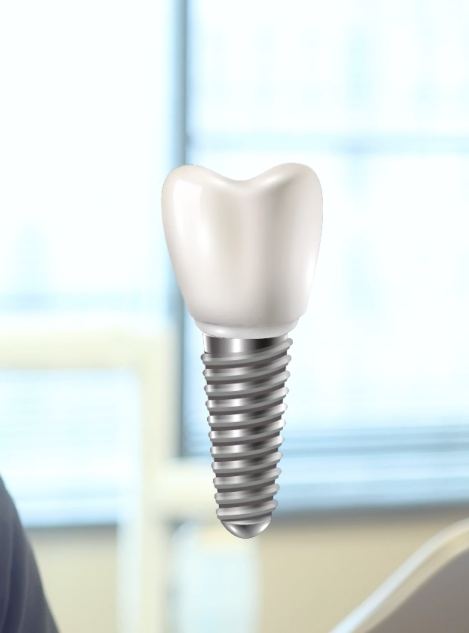 While they replace missing teeth like dental bridges and dentures, dental implants will involve multiple important steps to ensure successful results. Although the treatment can take several months to finish, the benefits you can receive will make it worthwhile. On top of that, our team can perform the entire process in-house, so you won't have to worry about visiting a dentist you don't already know and trust. Read on to learn the four main steps for getting your lifelike dental implants.
Initial Dental Implant Consultation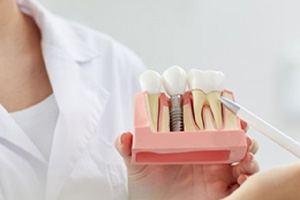 At your first dental implant appointment, our team will take note of how many teeth are missing and capture X-rays of your mouth and jaw. We'll determine whether you can get dental implants right away or if preparatory procedures are needed beforehand, such as gum disease treatment, tooth extractions, or bone grafting. If you have any underlying or developing issues present, we'll need to address them first so that there's less of a chance of treatment failure later on. We'll also walk you through the process and provide an estimate of the cost so there aren't any surprises.
Dental Implant Surgery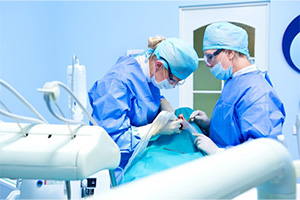 If you're eligible for the treatment, we'll pencil you down for surgery at a later date. Your dental implant surgery will involve placing the necessary number of posts in predetermined spots in the jaw. Thanks to our training, we can perform this surgery in-house without referring you to a specialist. We'll begin by numbing your mouth with a local anesthetic to keep you pain-free. Once we've embedded the implants in your jawbone, we'll suture your gums around the posts and have you rest at home to recover properly.
Dental Implant Osseointegration & Abutment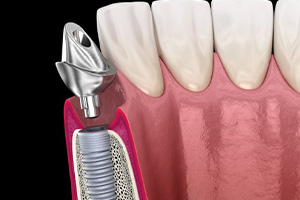 You should heal from your surgery after a few weeks. However, your dental implants will need to form a lasting bond with the jawbone after a few months. This process is known as "osseointegration," which will create the natural-feeling foundation needed for your new teeth to function like normal ones. Once your implants have fused properly, you'll return to our office to have your abutments attached to each post. Then you'll be sent home again so your gums can heal.
Delivery of Dental Implant Restoration(s)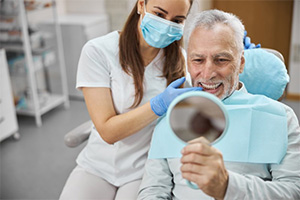 After you've recovered, you'll come back to us to receive your customized dental crown, bridge, or denture. During your final implant appointment, we will attach the restoration to the post(s), putting the finishing touches on your new smile. Once we've verified that your bite is correct and that you're satisfied with your new pearly whites, you'll be free to enjoy your long-lasting results!
Benefits of Dental Implants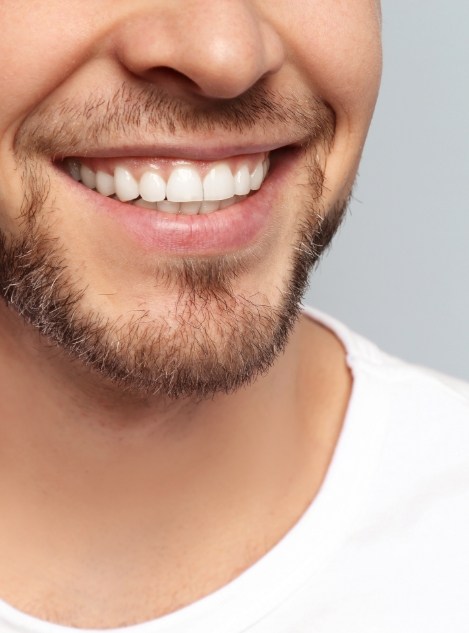 Dental implants feel natural because they effectively become part of your jawbone.
You'll never have to worry about your new teeth slipping or falling out.
It's easy to take care of dental implants because they can be brushed and flossed like regular teeth.
You'll be able to eat a wider variety of foods to maintain a balanced diet.
The implant posts will stimulate your jaw and prevent bone loss.
Properly maintained dental implants can last for decades.
Who Dental Implants Can Help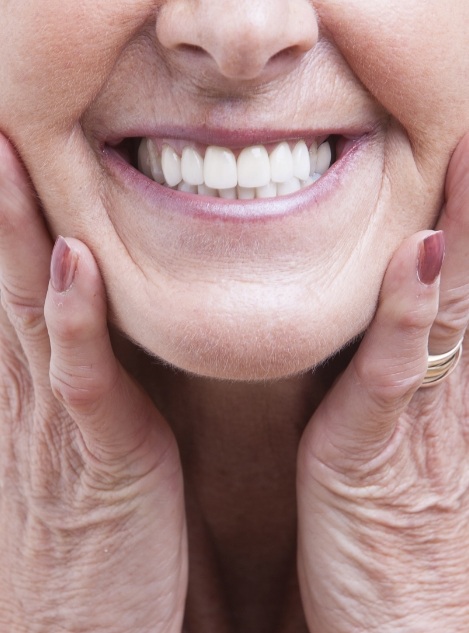 You may consider getting dental implants if you've lost at least one tooth. To be a candidate, you need to have enough bone in your jaw to support the posts and be in good enough health for surgery. Bone grafts and other preparatory procedures may be necessary before you can have dental implants placed. Once we've determined that dental implants are the best choice for you, we can walk you through the steps of the procedure.
Missing One Tooth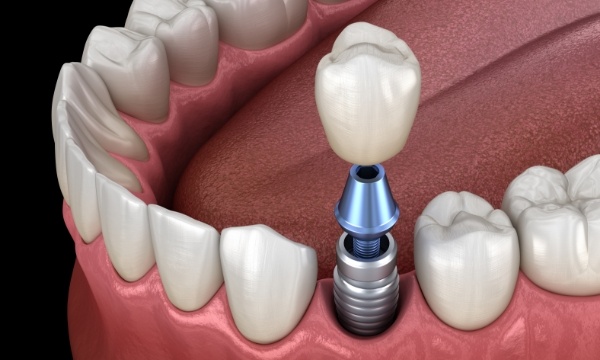 When you've only lost one tooth, a single dental implant post will be placed in the gap where your tooth used to be. This post will eventually be restored with a dental crown made out of a tooth-colored material. By completely filling the space with a dental implant and crown, we can prevent the surrounding natural teeth from drifting out of their proper alignment.
Missing Multiple Teeth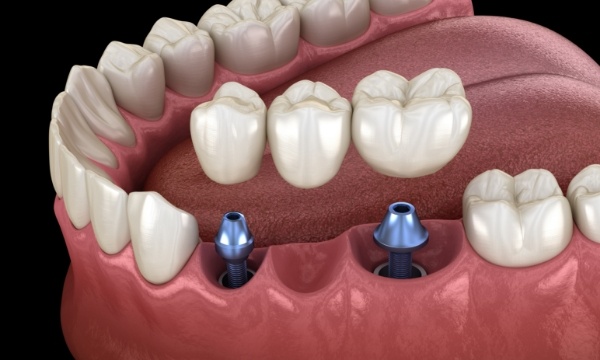 We can replace multiple missing teeth simultaneously with a dental bridge and a pair of dental implants. The implant posts will be surgically placed at either end of the gap so that they can support the bridge. Implant bridges are more conservative than traditional ones since there's no need to make any alterations to existing teeth.
Missing All of Your Teeth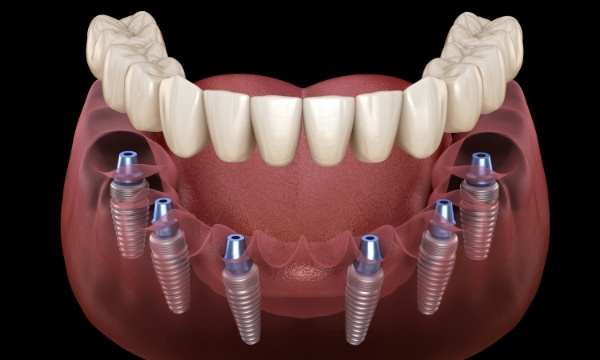 Only about four to eight dental implant posts are needed to replace an entire row of missing teeth. Implant dentures are different from traditional ones since they can be made to stay anchored in your mouth 24/7; not only can you count on them to remain firmly in place at all times, but you won't have to remove them for cleanings.
Understanding the Cost of Dental Implants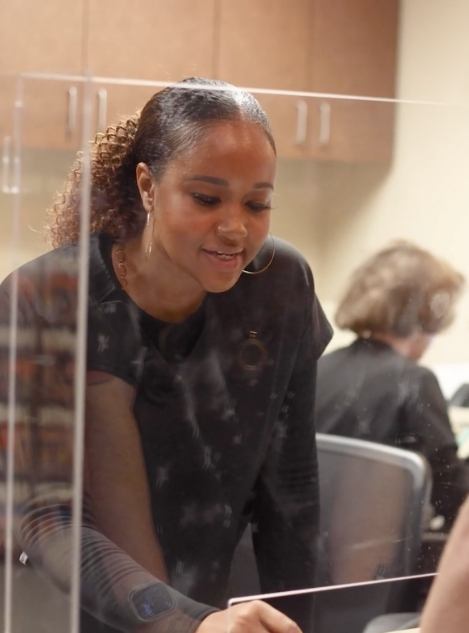 The amount you'll end up paying for your dental implants will depend on:
The number of implant posts you need.
What kind of restoration is required.
Whether bone grafts or other preliminary treatments have to be performed.
Other factors may need to be taken into account as well. We can give you a more detailed overview of what the final cost of dental implants in Buckhead, Atlanta will look like at your initial consultation. Remember, since dental implants last longer than traditional dentures or partials, they can save you money in the long run since they're less likely to need to be replaced.
Dental Implant FAQs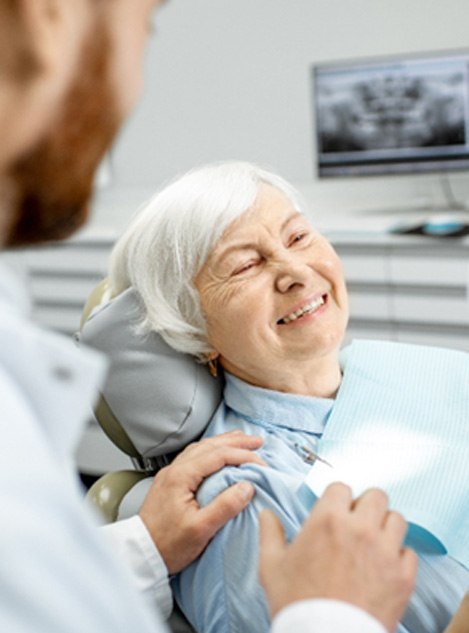 By now, you may be considering dental implants in Buckhead, Atlanta. That's only natural – these prosthetic teeth are amazing! However, you'd be wise to learn more about them first. You'll feel more confident about the treatment process that way. Luckily, we at Vason Family Dentistry can help: the answers to some popular dental implant questions are listed below. By reading them, you'll understand how the restorations work. If you need further details, don't worry; just call our office to learn more!
How Long Have Dental Implants Been Around?
Technically, the oldest evidence of dental implants goes back centuries. Archaeologists have even found Mayan skulls with seashells and carved stones used as replacement teeth. Those artifacts have been dated to roughly 600 A.D., though undiscovered items could have earlier roots.
As for modern dental implants, their history starts in the early 1950s. At that time, a Swedish orthopedic surgeon made a rather startling discovery. Namely, he couldn't remove a small titanium cylinder he had placed in a bone. People then grasped that titanium could fuse with the jawbone. From there, early versions of today's implants began seeing use in the 1970s onward.
Do I Need a Bone Graft Before Getting Dental Implants?
In fact, there's a chance you'll need a bone graft before implant treatment. Whether you do or don't will depend on the state of your oral health.
You'll likely require a bone graft if your jawbone has atrophied from tooth loss. Dental implants require a solid jaw to fuse correctly. Without one, the prosthetic teeth will fail soon after their placement. In contrast, the bone graft would strengthen your jawbone by transplanting bone tissue.
Ultimately, however, your dentist will make the final call. They'll take detailed scans of your jaw area to see if your jawbone has greatly eroded. Based on their findings, they and their team will decide if bone grafting is needed.
Do Dental Implants Make You Look Younger?
To be honest, yes – dental implants do make you look younger. Their features ensure treatment results include a more youthful face.
If you don't already know, teeth stimulate your jawbone. Consequently, losing even a few will cause your jaw to erode and shrink. This erosion then causes facial collapse – a condition that ages your face, making it more wrinkled and sunken.
Still, dental implants prevent and even reverse facial collapse. They act as substitute teeth that stimulate your jawbone. As a result, they prevent the bone atrophy that makes you look older.
Will People Be Able to Tell That I Have Dental Implants?
Generally speaking, people won't notice that you have dental implants. The prosthetics seem so natural that they look almost exactly like regular teeth.
Firstly, remember that implants are custom-made. Your dentist takes dental impressions, so they'll be personalized. Therefore, placed implants will blend seamlessly with the rest of your smile.
Furthermore, implants act like the real deal. They fit into your jaw sockets like natural tooth roots. It's thus the case that they won't slip like dentures might. Instead, they'll be secure, stable and let you speak and eat easily.