Zoom! Teeth Whitening – Atlanta, GA
Brighten Your Smile by Several Shades
After brushing and flossing, do you look in the mirror and wonder why your clean teeth look dingy or yellow? You may have even tried a home whitening system, but found the results disappointing. If this is your life, you may need Zoom! teeth whitening in Atlanta, GA cosmetic dentist.
A safe and effective system, Zoom! Whitening is used in over 15,000 dental offices internationally. The painless process can remove the toughest stains and create a dazzlingly white, long-lasting smile in just one hour.
Why Choose Vason Family Dentistry for Zoom! Teeth Whitening?
In-Office & Take-Home Options Available
Improve Your Smile By 6-10 Shades!
Passionate & Highly Trained Dentists
The Zoom! Teeth Whitening Process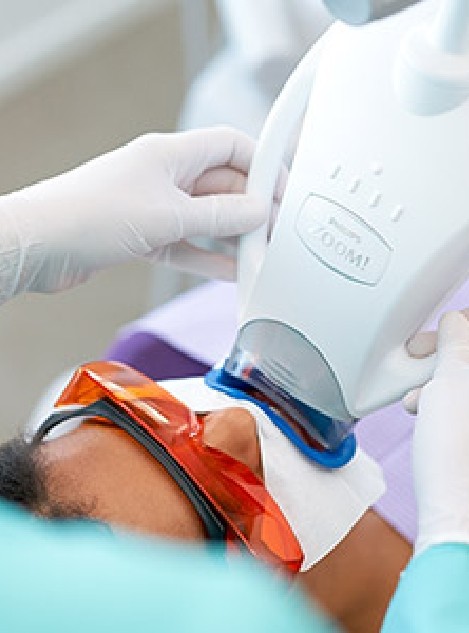 After making yourself comfy in our operatory chair, we'll place protective coverings over your lips and gums. Then we'll apply the Zoom! Whitening gel to your teeth. The active ingredient in the gel is a pH-balanced hydrogen peroxide. A special low-heat light will activate the gel. It will penetrate the enamel and dentin in your teeth to remove deep stains and discoloration. Afterwards, we will apply a fluoride treatment to complete the one-hour procedure. That's it – in and out.
Many patients report that Zoom! Whitening has made their teeth six to ten shades whiter. Some have even said that their smile became brighter days after their dental appointment. More importantly, the results lasted for years. If you notice any discoloration, the Zoom! Whitening System includes a take-home touch-up kit with comfortable custom-made trays. Regular brushing and flossing, plus an annual touch-up at home, and your teeth can remain dazzlingly white for years.
At-Home Teeth Whitening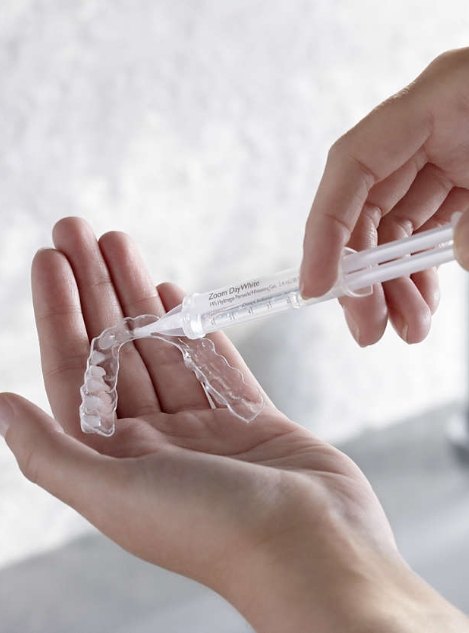 We can create clear, customized bleaching trays for you to whiten at home as well! The professional-grade at-home teeth whitening solution usually contains 10 percent carbamide peroxide. Simply pour the solution into your custom mouth trays and wear them for an hour a day. You will notice whiter teeth almost immediately, but the most dramatic results will appear after one to two weeks of daily treatments.
You don't have to live with dingy, yellow teeth anymore. A bright, sparkling smile can change the way people see you and how you feel about yourself. So what are you waiting for? Hurry in for your Zoom! Whitening treatment; it will put a smile on your face.